Cities like Lahore or London have history — hundreds of thousands of people have built and shaped those cities over a period of centuries. The people add their lives, bit-by-bit, to the mosaic of the city making it what it is today — good or bad, spacious or cramped — but the city bears the mark of time.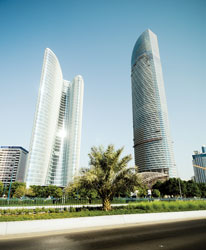 Corniche, situated in the heart of the city
Some cities do not grow organically; they are painted on a canvas, with planning, precision and a vision, with bold strokes. Hundreds of thousands of people contribute to building and shaping those cities too but they do it according to a map. Everything is shiny and new in these cities and nothing is shinier or newer than Abu Dhabi — in fact, if looked closely, half of its glory is still under construction.
I have visited UAE before but it has always been a 24-hour stopover on my way out and a 38-hour stopover on my way back to meet friends and family; this time around I went on a planned trip to Abu Dhabi and developed an appreciation for things new and glittery and it started even before I stepped foot on the land on their national airline Etihad.
One of the shiniest monuments of Abu Dhabi is the Sheikh Zayed mosque and represents the city to a T. It is flamboyant and flaunts its grandiosity like a badge of honour, complete with its gold-plated Swarovski crystal chandeliers, Christmas-like coloured Murano glass baubles hanging from the same chandeliers and world's largest hand-knotted carpet, woven in Mashhad by 1200 women who worked for months and made it into nine different pieces for easier transportation.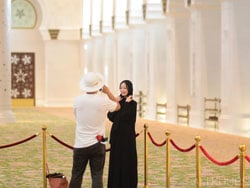 It was interesting to see that our guide at the mosque was an Arab version of a character from a Dan Brown novel, bringing in ancient symbolism into everything — be it the  design of the marble floor on the entrance foyer or the carvings on the wall which he said was based on what supposedly is the Garden of Eden or the old style Arabic calligraphy with letters without dots (Kufic script), which is interesting because everything about the mosque screams modern, sparkly and new. It is a must visit if you really want to get a feel of the city that is Abu Dhabi. 

It is also fun to watch Korean men in Arabic dress and Ukrainian women in black Abaya taking pictures of themselves and their surroundings and having fun.
Another example of Abu Dhabi's modern architecture and cosmopolitanism is Corniche, the stretch of beach that is home to most of the 5-star hotels and eco-friendly beaches and water sport facilities. The skyline is impressive and is lined with one beautiful high-rise after another. The view of the road at night with the lights from the road and the high-rise buildings glittering on the water is beautiful and quite endearing to a city girl like me. 

A leisurely dinner in one of the open air restaurants is a must during a visit to the capital city.
One of the places that I found most impressive is the under-construction city of Saadiyat. I went there to catch the 'Cultures of the World' exhibition, currently on loan from the British museum for the summer at Emirates Palace, a museum and a gallery. The exhibit was impressive and a great way for people who cannot travel to London to see the cultural marvels created throughout the history across the continents. The palace also houses a gallery featuring the past of the emirate and future of Saadiyat cultural city. It will have three museums, Zayed National Museum, the Guggenheim Abu Dhabi and world's second Louvre museum, along with a performing arts centre and a maritime museum, part of which will be submerged in water. The museums will be opening in 2015, 2016 and 2017 and once they are all operational, these will be the biggest concentration of cultural institutions in such a small place. The model of Guggenheim looked like an architectural wonder of conical and cylindrical shapes — and I for one cannot wait to see it when built. I am definitely coming back, if only to see Guggenheim Abu Dhabi.
If Saadiyat is being developed into the culture capital of the country, Yas Island is designed as the entertainment destination of the region. For a small island off the coast of Abu Dhabi, It boasts activities as impressive Etihad Airways Formula 1 grand prix at Yas Marina circuit, Yas Links, which is one of the top ten new golf courses in the world and regular performances and concerts by all the major entertainers and artists of the world.
So many people I know hopped over to Abu Dhabi last month for the Madonna concert.
Only a short while back, Abu Dhabi was nothing more than a few villages around the random oasis inhabited by the nomadic Arab tribes, it is now one of the fastest growing cities in the world with a truly cosmopolitan mix of people living and working there, calling it home. One must marvel and admire their government and Abu Dhabi Tourism Authority (ADTA) for turning a desert with unfavourable climate into a tourist destination for rich and privileged with a PGA golf tournament in one of the plushest golf courses in the world, a desert rally, a gourmet food festival and an annual Formula 1 grand prix.
Granted they have petro dollars that they can spend, they also have a vision to make things happen. 

I only wish that we can emulate some of that spirit and make our cities beautiful and centres of culture, art and music — after all we have history on our side.